After several weeks of waiting, these babies finally arrived!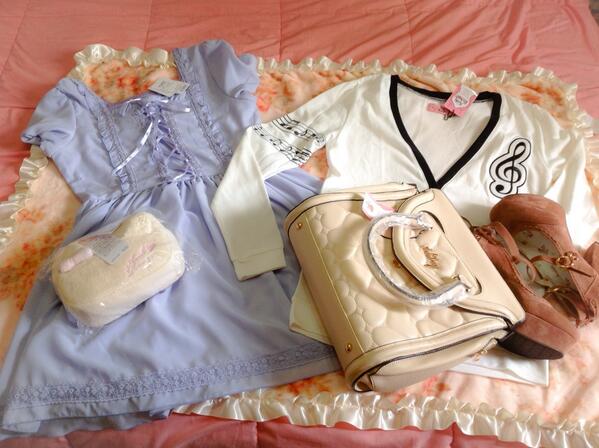 The first item is this lavender Georgette dress from LIZ LISA's sister brand Penderie. This dress was on sale for 3,150 yen and it was the only one left in this colourway so I decided to just nab it. FYI, this dress is actually a gift for my sister because previously I promised to get her a dress from LIZ LISA but unfortunately it was sold out before I could buy so this is sort of a substitute. 😀
All of the following items were bought off Mbok through Treasure Japan shopping service.
First one is the Ank Rouge bag + cardigan + pouch set. These three items totalled for only 1,200 yen!! So cheap! XD Moreover, all three items were brand new so I consider myself very lucky to have gotten them.
The cardigan is pretty cute. It has a single music note on the left chest and a band of music notes around the right upper arm. The fabric is thin and a little transparent. Perfect for the warm weather here. 🙂
The bag is actually pretty big in person and it is quite spacious inside. It has two pockets inside and a zipped compartment. The only thing I don't like about the bag is that you have to sort of slide one of the strap/handle beneath the flap at the front to open/close the bag. Bit of a hassle, I think.
The little pouch from Ank Rouge is just an extra, for me. It's cute and a little fluffy but I'm not really in need of a pouch right now so I might end up selling this instead.
And the last but not the least, my favourite item in the pile is this LIZ LISA pumps!
I have been dying to get my hands on a pair of LIZ LISA shoes. Unfortunately they are so expensive (9,000+ yen a pair!) so I'm always hesitant to make the purchase. Fortunately this time I saw this one on Mbok for only 4,000 yen! And it's brand new too! Well, the reason why it was sold at half of its original price is because there's a little flaw at the front of the right shoe. There's a scratch on the fabric and according to the seller it was due to the toes rubbing against each other, but anyway it is not very noticeable unless you look at it closely so I'm not too concern about it. I get a new LIZ LISA pumps for half of the price = not complaining. 😀
That's all for this time's haul and thanks for reading!
P.S. Here's my review of the LIZ LISA pumps.